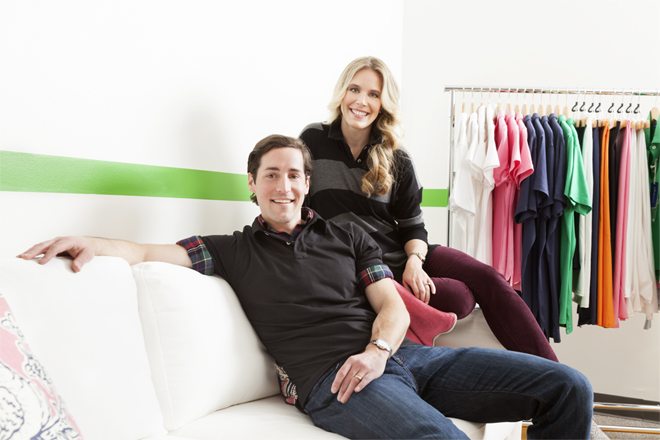 So pleased to get a chance to talk with Katherine Petty MacLane of KP MacLane who makes the most fabulous polo shirt in the world!  Such a staple in every man and woman's wardrobe.  Just ask Vogue who listed it in the September 2013 issue. http://www.vogue.com/vogue-daily/article/color-correct-seven-navy-blue-items-to-wear-now/#1
What we love most about this shirt, other than its timeless luxury, the signature, hand-embroided linen bag it arrives in, is that it's made in the USA.  Only 2% of clothing bought in the United States is made here.
Katherine Petty MacLane and Jared MacLane created KP MacLane to establish a brand built upon timeless elements, flawless design and painstaking attention to detail, creating a superior, American-made luxury company. With more than a combined 20 years of experience in the luxury world, the MacLanes are experts in their field. The husband and wife team, who met while working for world-renowned French fashion house Hermès, combine the traditions of European fashion with American craftsmanship to create the finest luxury apparel.
KP MacLane revolutionizes the way classics are made, by redefining key details, creating fashion forward fits and establishing unparalleled versatility in the final product. Using luxurious, custom-dyed European knits and highly specialized sewing skills in their New York factory, the result is "pure and perfect quality" according to Forbes.
JJK: what is the most challenging part of your job?

KPM: Balancing the needs of a growing business with the needs of two young boys (2.5-years-old and a 6 weeks-old).

JJK: Did anyone in particular mentor or encourage you?

KPM: My husband and business partner, Jared, is an inspiration to me everyday. He is the one with the true entrepreneurial spirit. He has amazing vision, drive and leadership; and I am in awe of him every day.

JJK: Describe your daily routine?

KPM: There is no such thing as a daily routine in my life right now. I keep my two boys on a schedule, but having my own business means something new every day.

JJK: What continues to motivate you in your personal and professional life?

KPM: I feel lucky to have my personal and professional life intertwined. Doing what I love motivates me.
So proud to call Katherine my friend! Congratulations! On a personal note, she would wear polo shirts routinely during our college days….how cool that she decided to create her very own! Now I'm off to buy the "tennis white"…..To purchase a shirt, visit www.kpmaclane.com.