Happy Valentine's Day! One of my favorite holidays…..filled with lots of LOVE for all. Here are some last minute gift ideas for you. To watch the segment on WREG Channel 3,  please visit my Press Section.

Elizabeth Arden UNTOLD Fragrance ($72,Macy's Stores Nationwide) Since 1922, Elizabeth Arden has been crafting fragrances as part of the brand's holistic approach to beauty. Past classics like Red Door, 5th Avenue and Green Tea keep delighting women around the world and now, with UNTOLD, the brand is introducing a luxurious and modern rendition of a sensual floral composition.  Each note in the fragrance was selected to evoke a characteristic of the UNTOLD woman.

Elizabeth Arden Beautiful Color Moisturizing Lipstick in Valentine ($25, Macy's Stores Nationwide)This new lipstick delivers ultra-conditioning and hydrating benefits in a rich, silky pigment in just one stroke. The Beautiful Color lipsticks are a treat with their luxurious wear and sumptuously soft comfort—lips immediately feeling moisturized and smooth. With shades specially curated by Elizabeth Arden's Global Makeup Artist, Rebecca Restrepo, these lipsticks boast an extensive range of both classic and trend driven shades to complement all skin tones and styles.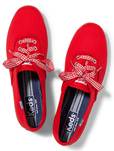 Champion Gingham Lace ($45, Keds.com) Color us obsessed this Valentine's Day and give the girl in your life some bright kicks to celebrate! The Champion's new palette has us grinning from ear to ear. Two sets of laces: tonal gingham & white. Soft breathable lining and a cushioned insole with flexible, textured rubber outsole.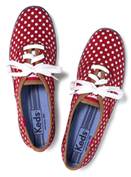 Champion Dot ($45, Keds.com) Celebrate Valentine's Day with these red and white polka dotted sneakers! Sign on the dotted line, because our most in-demand print is guaranteed to make a mark. Printed canvas upper with 4 eyelet lace up. This shoe's soft breathable chambray lining and cushioned insole is ready for anything!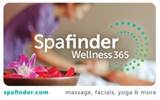 Wellness 365 Gift Card ($25-$1,000, SpaFinder.com) Inspire friends and family with a gift of wellness.  A Spafinder Wellness 365 gift card (ranging from $25 to $1,000) provides instant access to a network of over 20,000 wellness centers, spas, golf courses, nutritionists, salons, and personal trainers for a balanced lifestyle 365 days a year.  No matter who you are shopping for, Spafinder Wellness 365 has you covered for everyone, from the barre-class obsessed colleague, to the mani obsessed mom, or the globetrotting BFF an instant gift is just a click away! Select one of three delivery options when you visit spafinder.com to purchase a gift card.
Oak Hall Peter Millar Shirt Memphis-based retailer Oak Hall is teaming up with designer Peter Millar to offer a limited-run shirt with 100 percent of sales going to the Susan G. Komen Memphis/Mid-South affiliate.
The long-sleeve button-down shirts, which cost $115, feature a breast cancer awareness ribbon logo on the left sleeve. Oak Hall hopes to raise more than $20,000 through the sale.
The family-owned clothing store, founded in 1859, is located at 6150 Poplar in The Regalia shopping center in East Memphis. For more information, visit oakhall.com or call 901-761-3580.
Stovall Collection 901.767.8808. 430 S. Grove Park Road, Memphis,TN 38117
Valentine Cups