Freshening up your linens is the easiest way to add color to your springtime table; add interest to any special occasion by making these whimsical, floral placemats.  Burlap and silk flowers are both accessible and inexpensive, but paired with a simple table linen and easy floral arrangement, the overall effect is so seasonally chic!  Guest (adults and children, alike!) might enjoy assembling these beauties before the meal and will definitely be happy to take them home as a favor.  This style would also make adorable embellished cocktail napkins.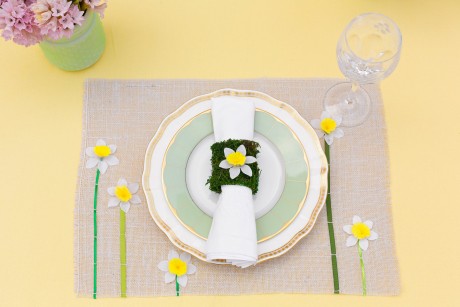 Materials needed:
burlap
hot glue gun
scissors
assorted ribbons
assorted silk flowers
Start by cutting burlap into placemats.  Cut straight along the "grain"of the fabric and then fray the edges for an easy, no-sew finish.
Remove a few strands of the burlap so that it's wide enough to accommodate the ribbon.
Weave the ribbon though the burlap to create the flower stem and hot glue into place.
With scissors, remove the silk flower blooms from their stems so that they flower lays flat.  Hot glue gun the flower to the placemat to secure.