A really simple and fun way to add and unexpected detail to your spring table is by creating some novelty napkin rings.  Using items from around the house or from the craft store (ribbons, stickers, flowers, craft paper, rope, etc), the combinations and possibilities are limitless!  But for Spring, we wanted to bring a touch of organic color to the place setting using moss.
Supplies
Cardboard from a toilet paper or paper towel roll
Moss sheets
Scissors
Hot Glue
Decorative item (silk flower, butterfly, etc)
First, cut rings from the cardboard rolls.  This will provide a foundation for the napkin rings so that they will keep their shape.  Then, cut the moss sheets into rectangle pieces and secure around the cardboard rings using the hot glue.  Add a decorative element, and your napkin rings are complete!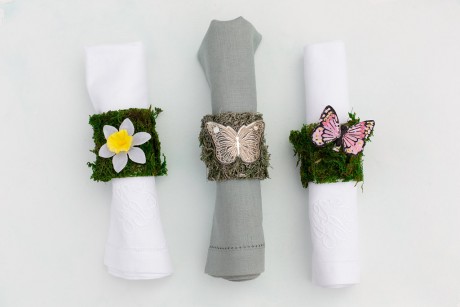 Coordinate your napkin rings to these DIY Blooming Placemats for a cohesive tablescape!
See other great Spring ideas from JJ Keras Lifestyle: Bejeweled Birds Nest and Splash of Spring and Blooming Placemats.
Check out JJ's Pinterest board for more great Spring Entertaining ideas.