Back to school season is just around the corner!  But for the first-time college students, the stakes are even higher–not only are there books and school supplies to buy, but dorm rooms to furnish as well.  Here at JJ Keras Lifestyle, we've rounded up some of the top, must-have picks for any college-bound co-ed!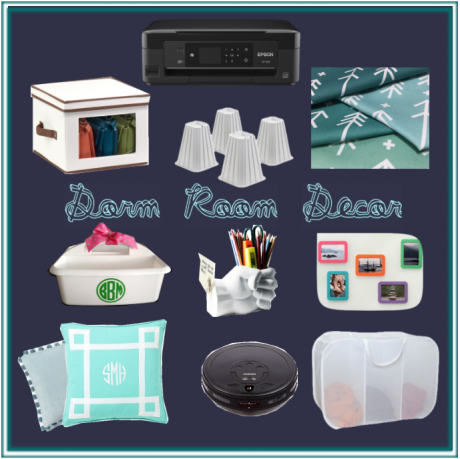 Personalized Wallpaper and Decals from Spoonflower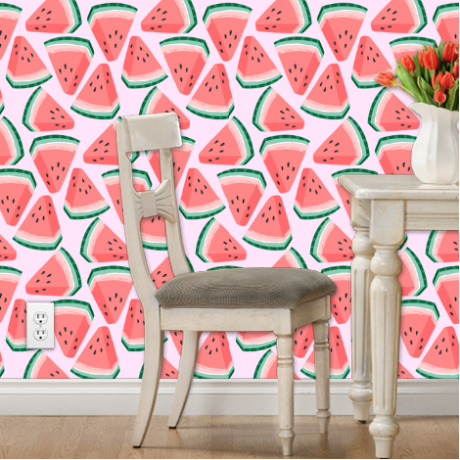 All college students want to make sure their dorm room represents their individual personality and one of the coolest ways to do that is by using some of the newest products from Spoonflower.  Most known for their custom-printed fabrics, you can now purchase custom-designed wallpaper and decals from the site as well!  These dorm room decor ideas are easy and low cost, but make a BIG impact!  Try covering a wall in removable wallpaper or adding a giant decal as a focal point.  Not only can you shop thousands of original designs, you can also create your own designs to be uploaded.  As an added bonus, Spoonflower  uses eco-friendly material that's PVC free and is printed with eco-friendly inks.  Check out some of these fabulous project ideas (animal decal tutorial, closet update, shelf redo, table decal redo, bookshelf revamp) and some of our favorite original designs (chevron, arrows, hexagon, Pinapples, Cactus, Birch trees, Tacos, Watermelon)
Epson Expression all-in-one printer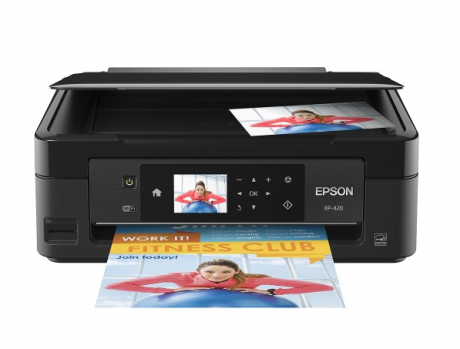 Make sure your college student gets ALL those papers turned in on time using this Epson Expression Home XP-420 all-in-one printer.  This printer allows you to print, copy and scan photos and documents AND has features like AirPrint, Google Cloud print and Epson iPrint let you print directly from your mobile device–perfect for a student on-the-go!  And for a limited time, this printer is ON SALE, so make sure to snap one up.
Epson printer from Best Buy $69.99
Monogram Caddy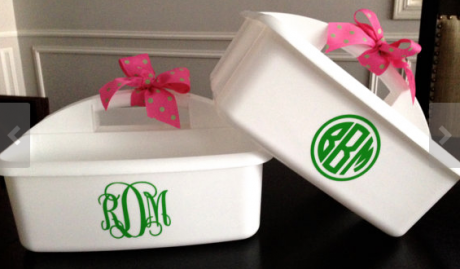 No one wants a shampoo-stealing rookie, so this shower caddy both practical AND adorable.  This personalized caddy is a great way to keep everything organized–take this storage caddy to campus to organize your dry essentials in your dorm room or, use it to store your dry essentials for the community showers such as makeup, Q-tips, hairbrush, or razor.  It would look equal on a desk to organize your school supplies too!
Purchase this customized caddy from Etsy $20
Dorm Bed Risers

The one common denominator for all dorm rooms is the need for more storage space!  Add 7.5″ of under-bed storage space (higher than typical college bed risers) to store extra blankets, supplies, luggage, or clothes.  These risers are made from sturdy plastic, so even if you gain the freshman 15, they can hold up to 1,200 lbs!
From Dormco.com Dorm risers $17.76
Pottery Barn Pillow Covers
Add some pizazz to your bedding with these playful pillow covers from Pottery Barn teen.  These fun pillow covers combine classic designs with of-the-moment colors.  The grosgrain ribbon pillow creates the perfect frame to showcase an initial or monogram to make this pillow cover uniquely yours…no more roommate confusion!
Pom pom organic pillow cover $24
Adhesive Photo Frames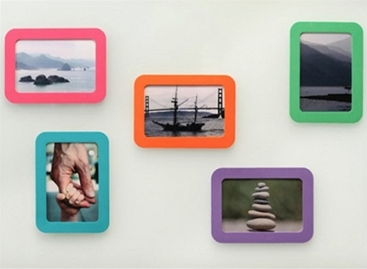 Photos of friends, family, and other meaningful places and people make the best college wall decorations and you can bet that a few nice photos will make your dorm room feel more like home.  Give your fave photos a nice border with these Reusable Adhesive Picture Frames. Since they come in different, cool colors, you'll further add dorm decorations to those bland college walls.  Combine your framed photos with other wall decor to make that dorm wall a collage of college decorations that's sure to be striking and meaningful!
Frames from dormco.com $12.99 for a 3-pack
With a full class load and a packed social calendar, who has time to clean?  The Roomba Vacuum cleaning robot is here to save the day and give you the best of both worlds.  Using a patented, three-stage cleaning system, Roomba 650 vacuums all floor types thoroughly and with automatic adjustments and acoustic sensing for optimal debris collection. Designed for maximum convenience, it starts its household duties on schedule or at the push of a button, and it returns automatically to its base to recharge when cleaning is complete.
From Zulily.com Roomba 650 Vacuum Cleaning Robot $279.49
Pen Holder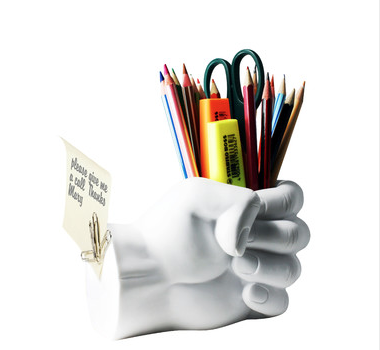 Even the most serious of study desks needs a little bit of whimsy!  The DanyaB "Fist" Pen Holder with Paper Clip Magnet is a unique and stylish pen holder designed to help you keep your pens and pencils in an organized manner. It is made from cement with PVC coating that makes it sturdy. This holder has a white finish that blends well with most decors. There is a magnetic side that makes it ideal to hold paper pins or other such items. It has a non-scratch protective cover that makes it look and stay like new for a long time.
Storage Bins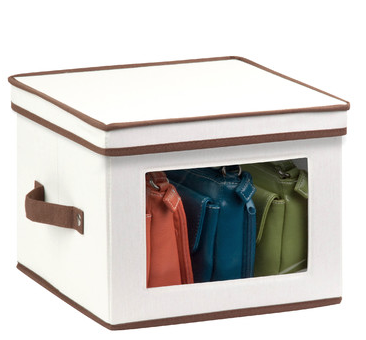 In a tiny space like a dorm room, a student can never have too many organized storage boxes!  These Window Storage Boxes boxes from www.wayfair.com are perfect for storing anything from clothing and accessories to school supplies and gadgets.  The clear view window on the side make it easy to quickly identify what's inside, so no need to lose anything ever again!
Boxes from Wayfair.com $17.49
Laundry Basket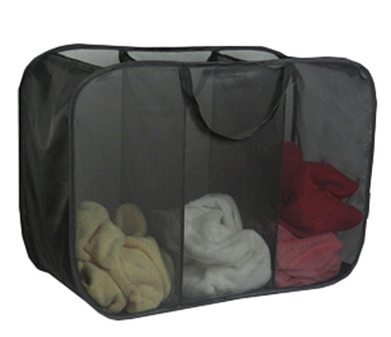 Moving out means its time to tackle the necessary evil that is laundry duty!  But not to worry: this foldable mesh hamper from www.wayfair.com makes laundry easy for any novice.  Three compartments allow for sorting (separate those whites from colors!) and handles allow for easy transport…just hopefully not for transport home to Mom!
Laundry hamper  $21.99
What are some of your favorite dorm room finds?
Happy back-to-school shopping?
-JJ