When experiencing the gift-giving season with children, their anticipation and excitement is so contagious!  Here are our gift picks that the kids will absolutely love…from baby all the way to teen.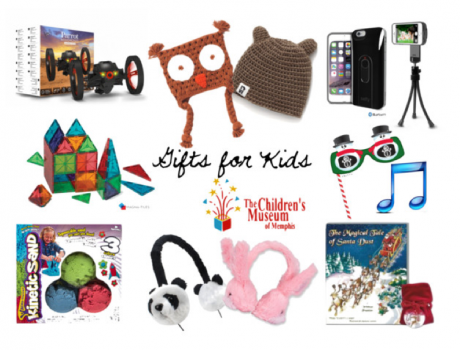 Clockwise from top left:
Parrot Jumping Sumo Mini-drone is a responsive bot with a strong personality which rolls, rushes, zig-zags, circles, takes turns at 90°.  It jumps up to 80 cm in height and length, and always lands on its wheels, its spring enables it to push objects in its path, and it auto-balances.  Acrobatic tricks are available from the free app FreeFlight 3 and it also has an embedded camera for recording.  $159.99
Krochet Kids is a nonprofit which aims to holistically equip people living in poverty with the skills, education, and resources to change their circumstances forever.  Each item is created in Uganda or Peru and is signed by the maker.  How adorable are these little character hats? the Teddy $21.95 and the Hoot $25.95
iLuv Selfy products are great for the photo-obsessed teen. The iPhone 6 Case comes with  a built in wireless camera shutter $39.99 and connects to several accessories like the Mini-tripod which is perfect to capture stable shots and videos and light enough to take anywhere! $19.99
Holiday Magic 3D Viewers feature fun holiday designs and create one of 5 different holiday images when viewing a bright point of light, providing an optical experience like you've never seen before! The Set consists of Snowman, Snowflake, Santa, Reindeer, and Christmas Star. These durable plastic viewers are perfect for gifts, stocking stuffers, holiday parties, teacher/student gifts, fundraising and more! Holiday fun for everyone! $1.50-$8.
Music for Aardvarks is a refreshing alternative to the traditional music class for kids ages 8 months to 5 years old.  Song, dance, and rhythm combine for a rocking' good time.  It's a foot stomping, jingle shaking, drum drumming hullabaloo for both kids and their parents!  Semester of class $185.
The Magical Tale of Santa Dust: A Christmas Tradition--a magical tale of two small children who, on Christmas Eve, sit by their window eagerly awaiting the arrival of Santa, only to be bypassed on his yearly journey. Save for the antics of a giggling bungling elf – and some magical dust – their Christmas dreams come true.  Each book is packaged with a pouch of magical Santa Dust (similar to The Elf on the Shelf) that is also a keepsake tree ornament.  The book encourages new family traditions on Christmas Eve. $18.41
ReTrak Animalz retractable headphones were designed to be safe for children's developing, sensitive ears with volume limiting technology not to exceed 85 db. Parents can relax knowing their children's ears are safe with ReTrak's Animalz headphones. Manufactured with high-quality components and a built-in retractable cable, this tangle-free headphone solution is built to last with kids in mind. $14.99
Children's Museum of Memphis: a membership is the gift that keeps on giving! Let your child experience the educational excitement first-hand as often as you like! Starts at $95-$140 for 2-6 people.
Kinetic Sand is 98% sand and 2% magic, where the 'magic' a bonding agent that causes the sand to stick only to itself in a soft clump. This sand-in-motion flows and shapes just like wet sand, but leaves surfaces completely dry and mess-free. When pressure is applied to Kinetic Sand, it keeps its shape allowing for all kinds of sculpting and molding. It's totally reusable, never dries out, is non-toxic, and anti-microbial. $12.99
MagnaTiles are innovative, magnetic building tiles are designed to hold a child's interest and attention, build critical developmental skills and promote imaginative play and creativity.  Sets starting at $51.50.  Available at the Village Toymaker.
Merry Christmas!
-JJ
Watch Best Holiday Gifts for Kids on CBS WREG Live@9!
Follow JJ Keras Lifestyle on Pinterest for more gift ideas for kids.  Click HERE for gift ideas for men and HERE for gift ideas for women.