T-minus 2 days until the biggest game of the year…the Superbowl!  And this year promises to be especially eventful since it's the 50th anniversary of the game.  Usually, a football gathering is super-casual and heavy on the beer and unhealthy grub.  But this year, celebrate football's "golden anniversary" in style and take the basic bowl party up a notch by throwing a golden grid-iron gala!  Whether the Panthers or Broncos end up with the trophy, you'll definitely win the party!
Watch the video below to see these ideas on the TODAY show with Hoda and Jenna!
Drinks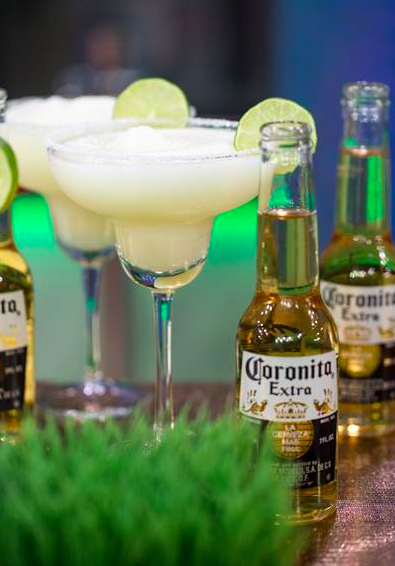 While football+beer is tried-and-true combo,  mix things up a bit and create a Beergarita. Simply take mix some tequila and frozen limeade with a light beer, like a "Caronita" to taste.  Serve in glasses with salted rims and garnish with lime.  Cheers!
Food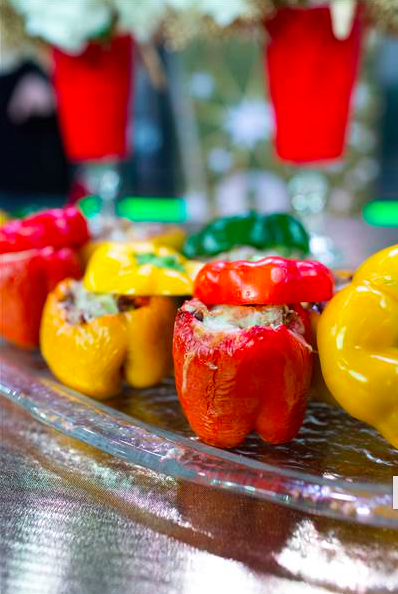 Fans love a big pot of chili at a football game, but step it up a notch by making pepper chili bowls.  Just hollow out red, yellow or green peppers, then ladle in the chili. Top with pimento cheese for an extra kick!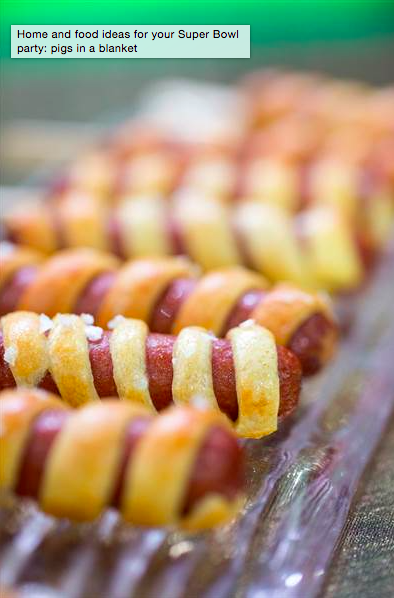 Everyone loves classic pigs in a blanket at parties, but your guests will be all about this easy-to-grab treat.  Wrap the hot dogs  in strips of crescent roll or pretzel dough, then bake until the roll is crispy.  Put each one on a lollipop or Popsicle stick for easy serving and serve alongside a variety of gourmet mustards.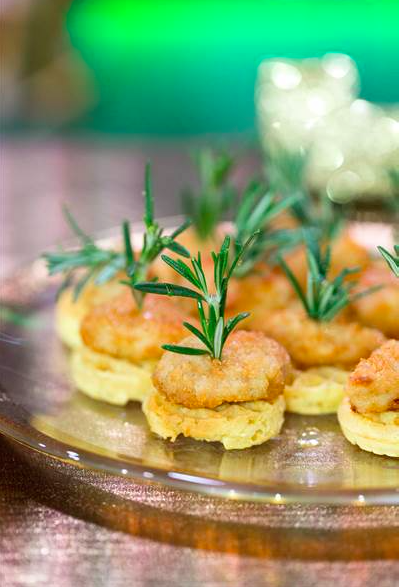 What's better than everyone's fave comfort food, chicken and waffles?  This grab-n-go app could not be easier.  Topping tiny Eggo waffles with fried chicken from the grocery store. Drizzle with a gourmet spicy honey and you're good to go!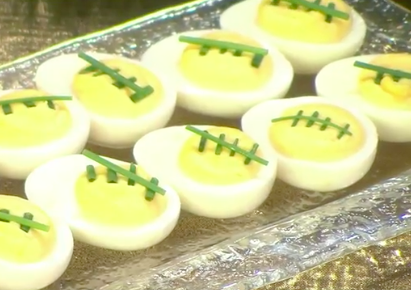 Not only are these deviled eggs yummy, but they're also delicious!  Take a shortcut by purchasing a platter of pre-made deviled eggs and just add the football lace garnish by using chives.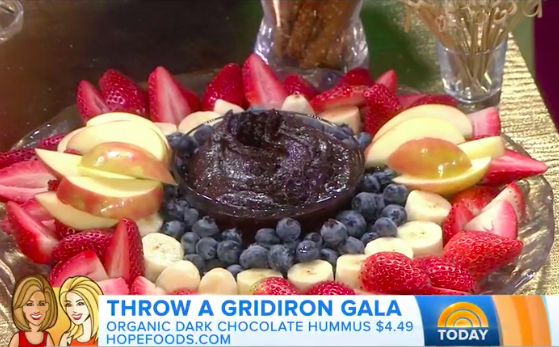 Try a new twist on hummus dip by using serving chocolate hummus!  Yes, this actually exists and is pretty tasty AND healthy!  Serve with sliced/chopped fruit for a lighter spin on traditional party dips.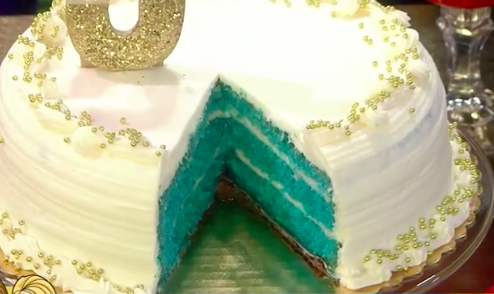 For a festive twist on a traditional cake, color the batter of a white cake mix to show your team spirit.  Or, order one from Carousel Cakes, like this blue velvet + cream cheese version.  Yum!  Top the cake with a glittered "50" for extra pizzaz.
Decor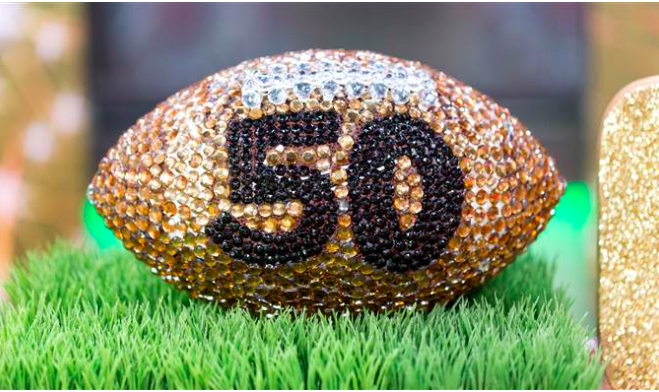 No party is complete without a little decor.  You might have stashed away that Bedazzler during your middle school years, but dig it out to make this glam game ball.  You can cover it in one color, or get creative with team names, players or numbers.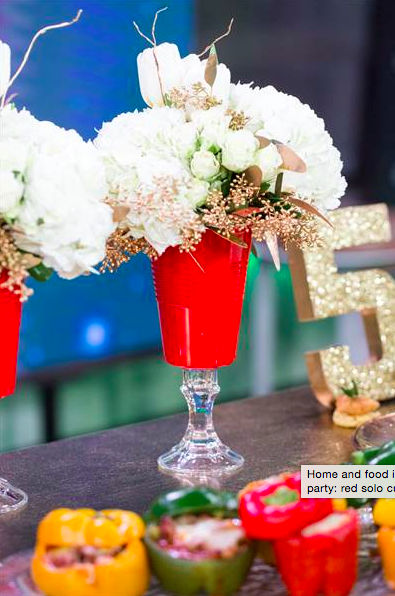 Infuse a little personality into your party table with floral arrangements in these fun Solo cup containers that can be purchased here.  Use them as a vase for the Superbowl or serve drinks at them for the next party.
Entertainment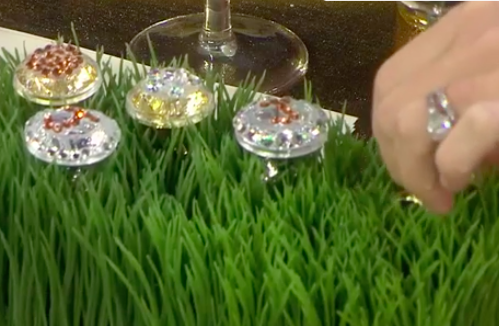 While only the players will be lucky enough to get those blingy championship rings, treat your guests to the next best thing and create these DIY rings.  After all, half-time entertainer Beyonce wants you to "put a ring on it!"  Simply purchase some party favor rings from the store and use rhinestones and hot glue to make your custom creations.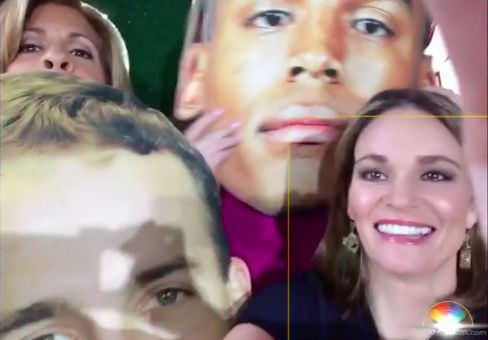 Take a selfie with your favorite football star!  Pick up some artificial turf from Home Depot and simply hang it on a wall. Cut out faces of your favorite players (or purchase them here) then invite guests to jump in front of the backdrop and snap a pic, channeling the player of their choice.
Cheers!
-JJ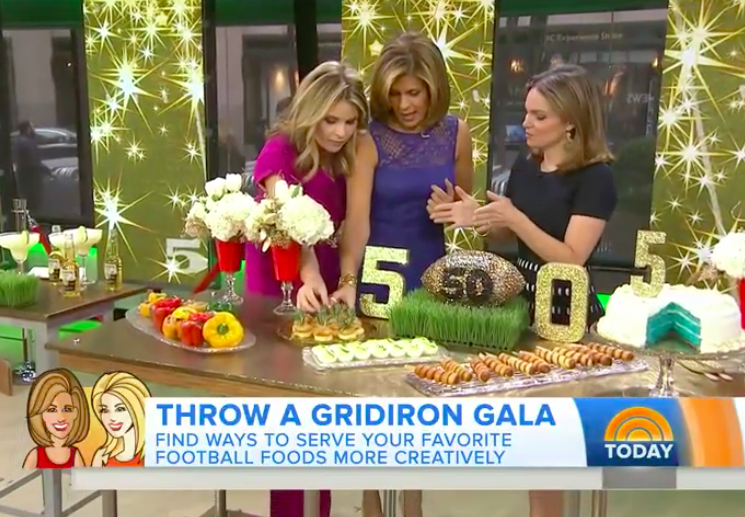 photos courtesy of the TODAY show