I had the opportunity to visit the Southern Living magazine offices in Birmingham, AL.  It was such a fun experience and I cannot absolutely wait to go back!
We filmed a "Facebook Live" video in the Prop Studio and I shared some of my favorite summertime entertaining and DIY ideas.
Unfortunately, the "Facebook Live" video had some technical difficulties and cut out before we could finish all three blankets, but we'll outline the project details below.  
But before we jump into the projects, have you ever wondered how everything in Southern Living magazine is so perfectly styled and accessorized?  Well…let me give you a little behind-the-scenes sneak peek.   The Prop Studio is where all of the magic happens!
Ladybug Bites
You can't have a picnic without food, so first, we created these whimsical ladybug caprese bites.  Everyone loves a traditional caprese salad; there's nothing better than a summertime tomato paired with the bold flavors of fresh basil and mozzarella.  It's a light and refreshing staple appetizer during the summer months, but why not dress it up a bit?  It takes a little bit of extra time, but once you see the adorable end result, its definitely worth the extra effort.
First, choose a large fresh basil leaf and layer a slice of mozzarella on top.  Slice halfway through a cherry tomato so that it splits and use this piece for the body and place on top of the basil + mozzarella.  Slice a black olive in half and use as the head.  Using a toothpick, add small dots of balsamic vinegar (a balsamic reduction is especially effective) to the outside of the tomato to add the ladybug spots.  And there you have it–the cutest little picnic guests…almost too cute to eat!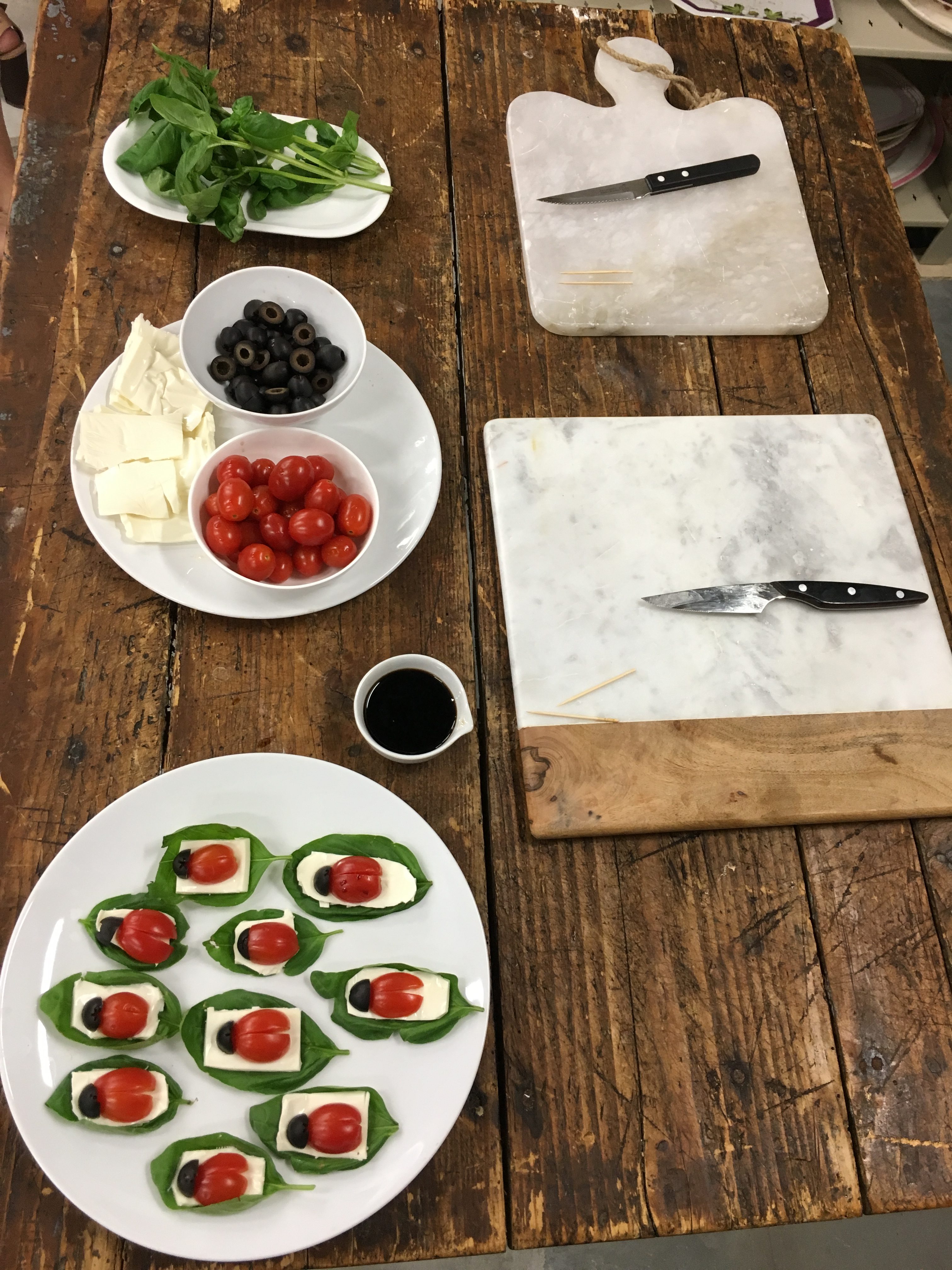 Water Balloon Cooler
This next idea is perfect for the folks that love multi-tasking!  First, fill water balloons with water, place in a bucket or bowl and freeze until solid.  (We loved using red and white balloons for a classic picnic theme!)  One balloons are frozen solid, place over beverages in a drink tub.   After a couple of hours and once the drinks have been finished, you'll have no excuse but to have a water balloon fight!
We also love pre-preparing drinks or cocktails in small mason jars to place in the ice balloon bucket.  As we all know, mason jars are super versatile, but in this case, they work perfectly for  make-ahead, spill-proog, "to-go" containers.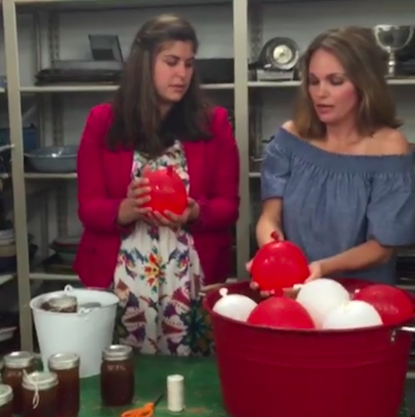 Dropcloth Picnic Bankets
And finally, t's impossible to have a picnic without a good blanket.  Why not attempt to DIY your own inexpensive and durable version?  It's a lot easier that you might think, and don't worry–no sewing required.
First, pick up a painters drop cloth from your local hardware store.  Usually, inexpensive drop cloths will come in several different sizes and are already hemmed.  Then (the fun part!), choose a design motif.  It can be something playful, something geometric, or something artistic–there's no wrong answer! Then, decide on a color palette and purchase acrylic paints and brushes.
Note: it can take awhile for the paint to completely dry, so start well in advance of actual usage.  
Our first design was a colorful take on a herringbone pattern.  First, we taped off vertical columns.  Then we taped off equal diagonal sections and then painted those sections with slightly watered-down cheerful colors.  Mix less water with your paints if you'd like a darker and crisp feel to the blanket and add water for a lighter, more watercolor effect.  Once the paint has had time to dry adequately, remove the tape to reveal the pattern underneath.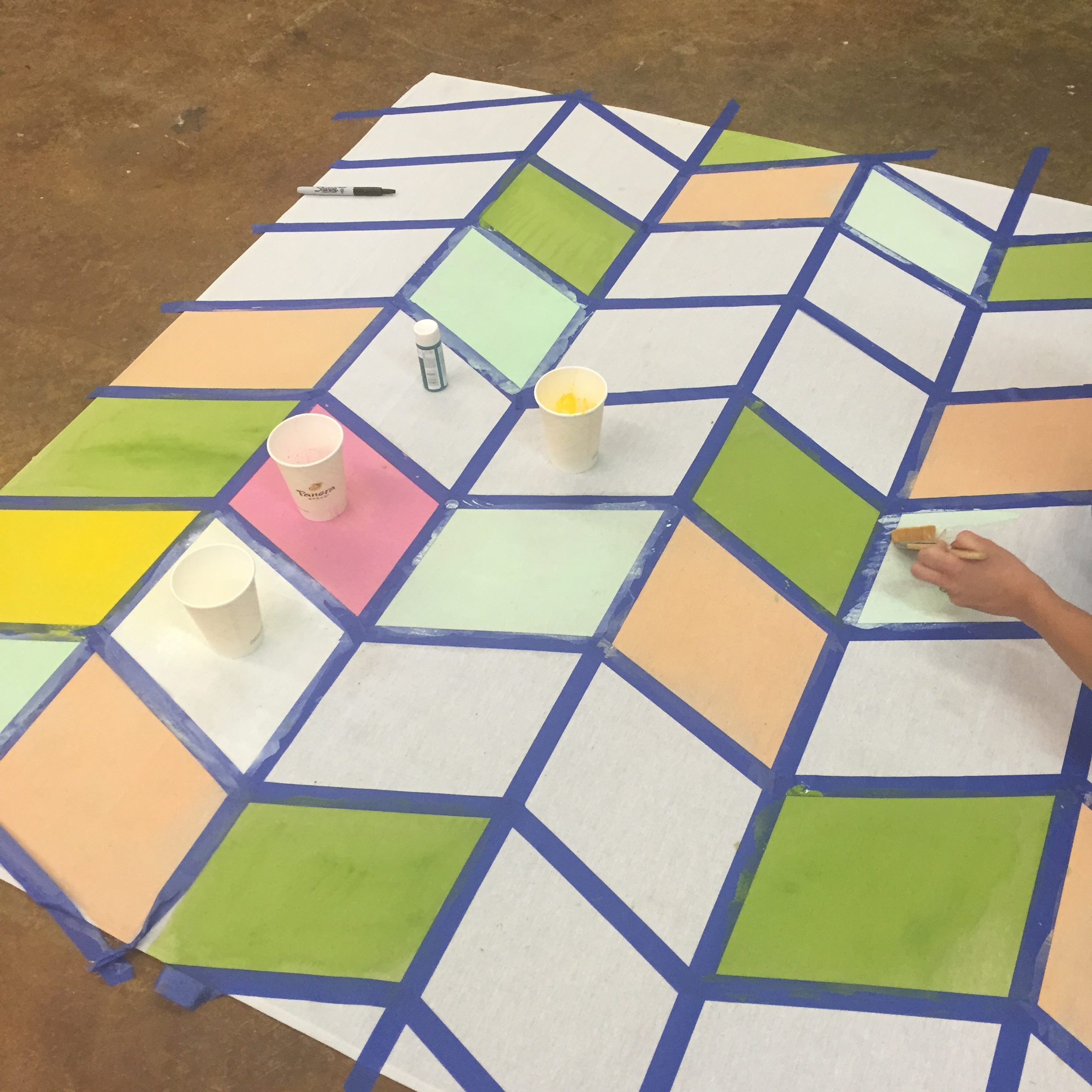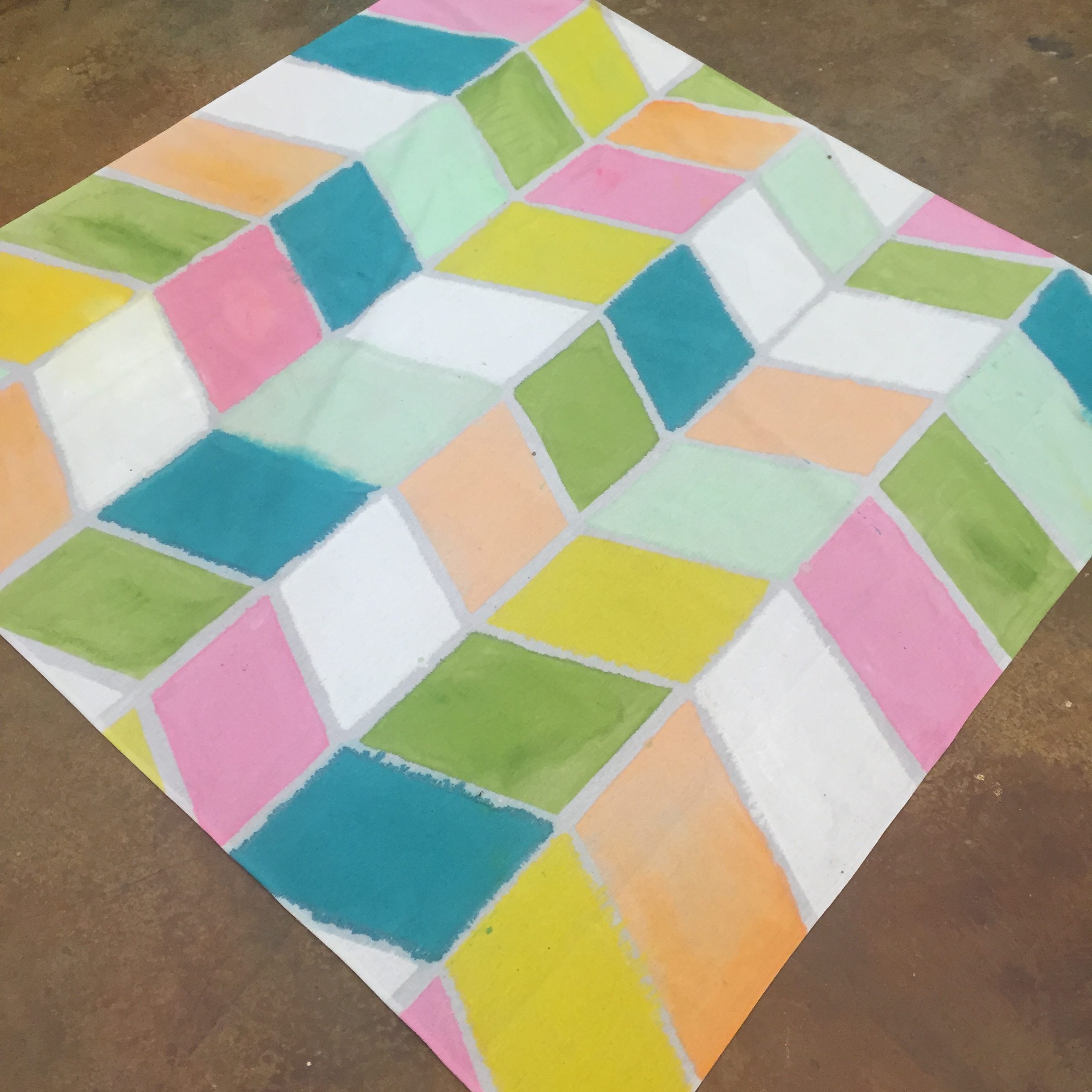 For the next blanket design, we chose an ombre effect.  For this technique, the paint is heavily watered down.  Mix paint colors as necessary to get the desired color blend.  Our ombre design was inspired by sunsets, so bright pinks and oranges were chosen.  Just take a brush, start painting from lightest colors and work your way to darkest  colors.  This freestyle painting  technique is not only easy, but especially therapeutic as well.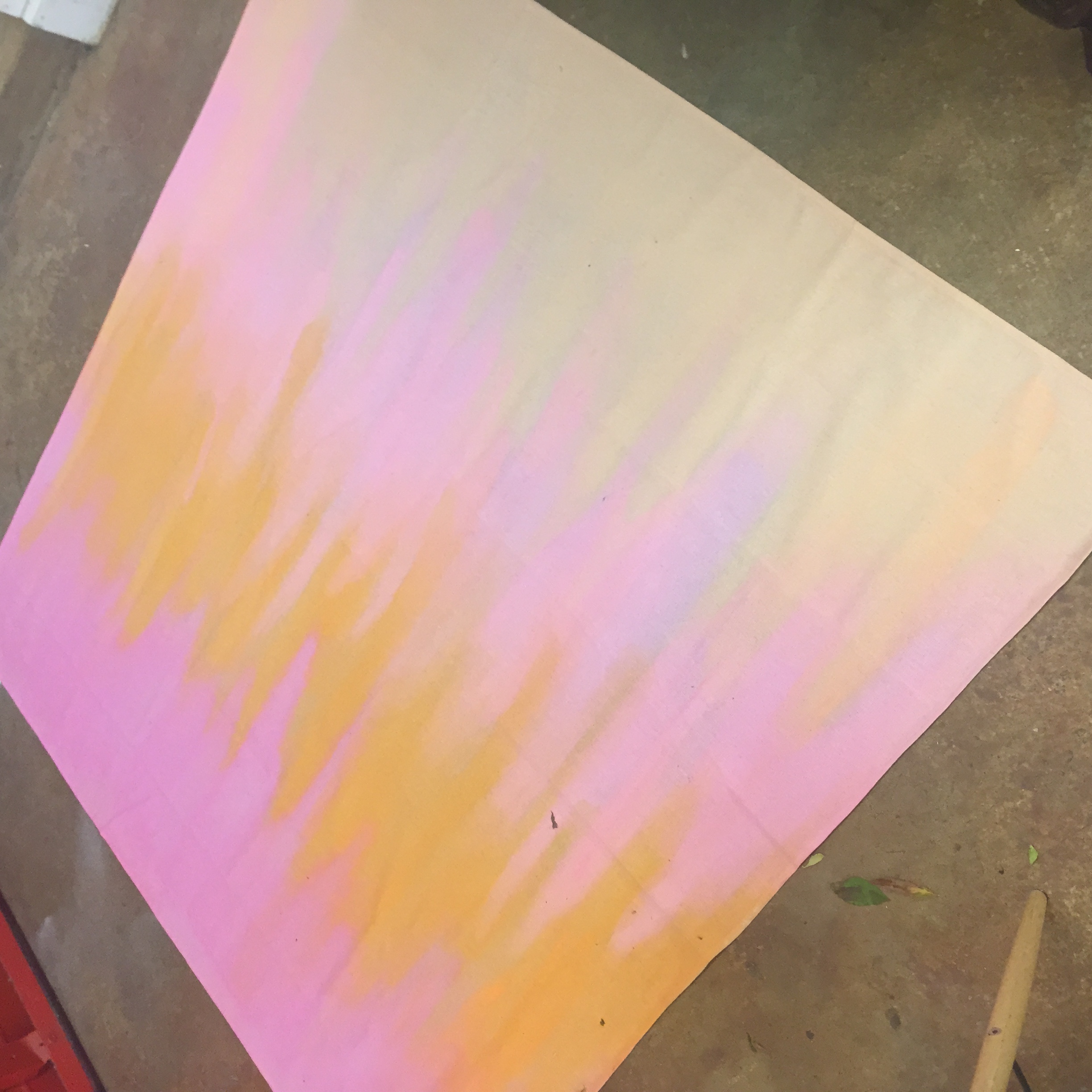 And last but not least, the watermelon picnic blanket…because nothing conjures picnic imagery like a watermelon.  For this design, we created a stencil from cardboard.  Then, we used spray paint to color in the red part of the fruit.  The green rind and seeds were adde with acrylic paint  by hand.  To give this blanket a little extra dose of whimsy, we added a little marching line of mischievous ants, waiting to steal your favorite picnic treats!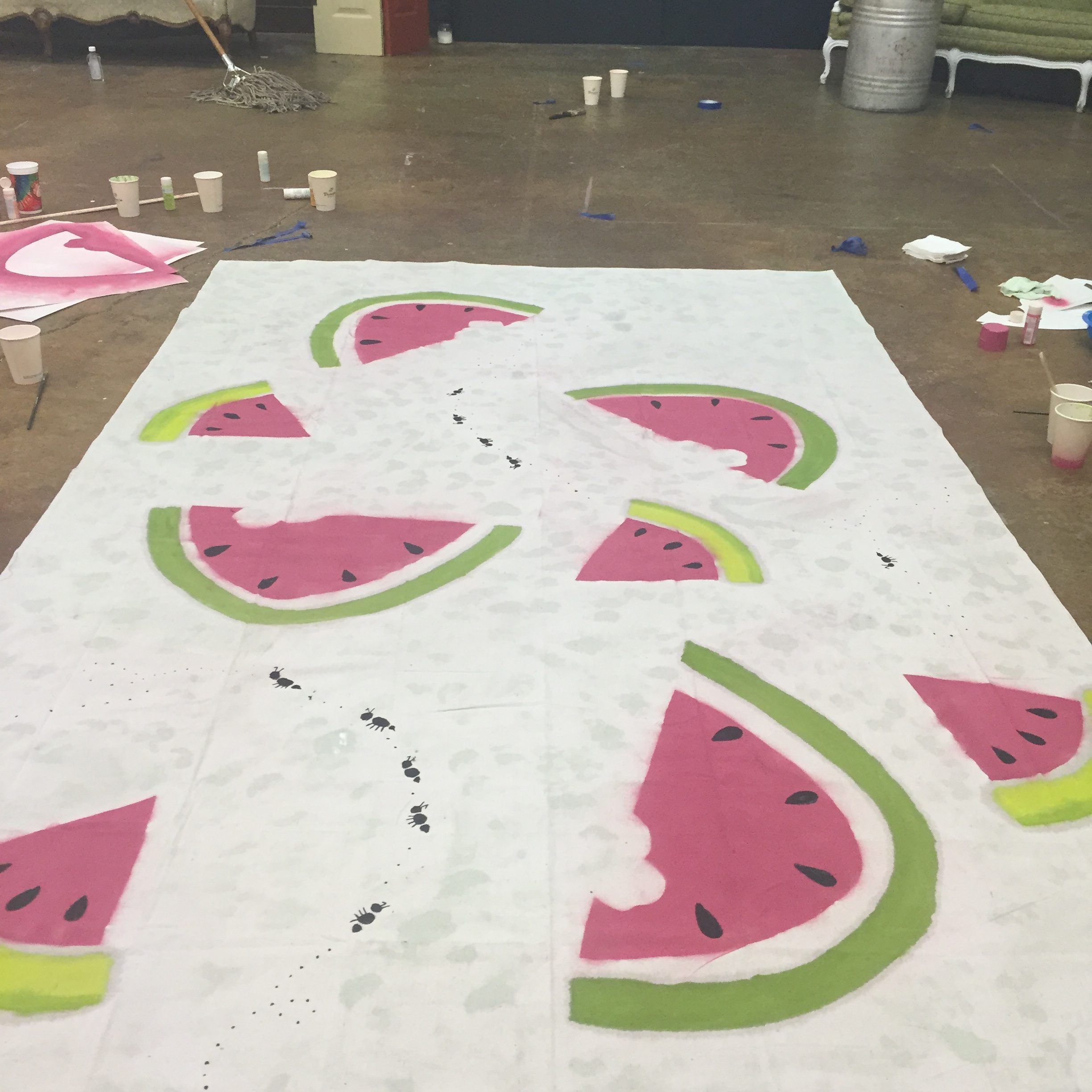 And I think this blanket has gotten the official stamp of approval.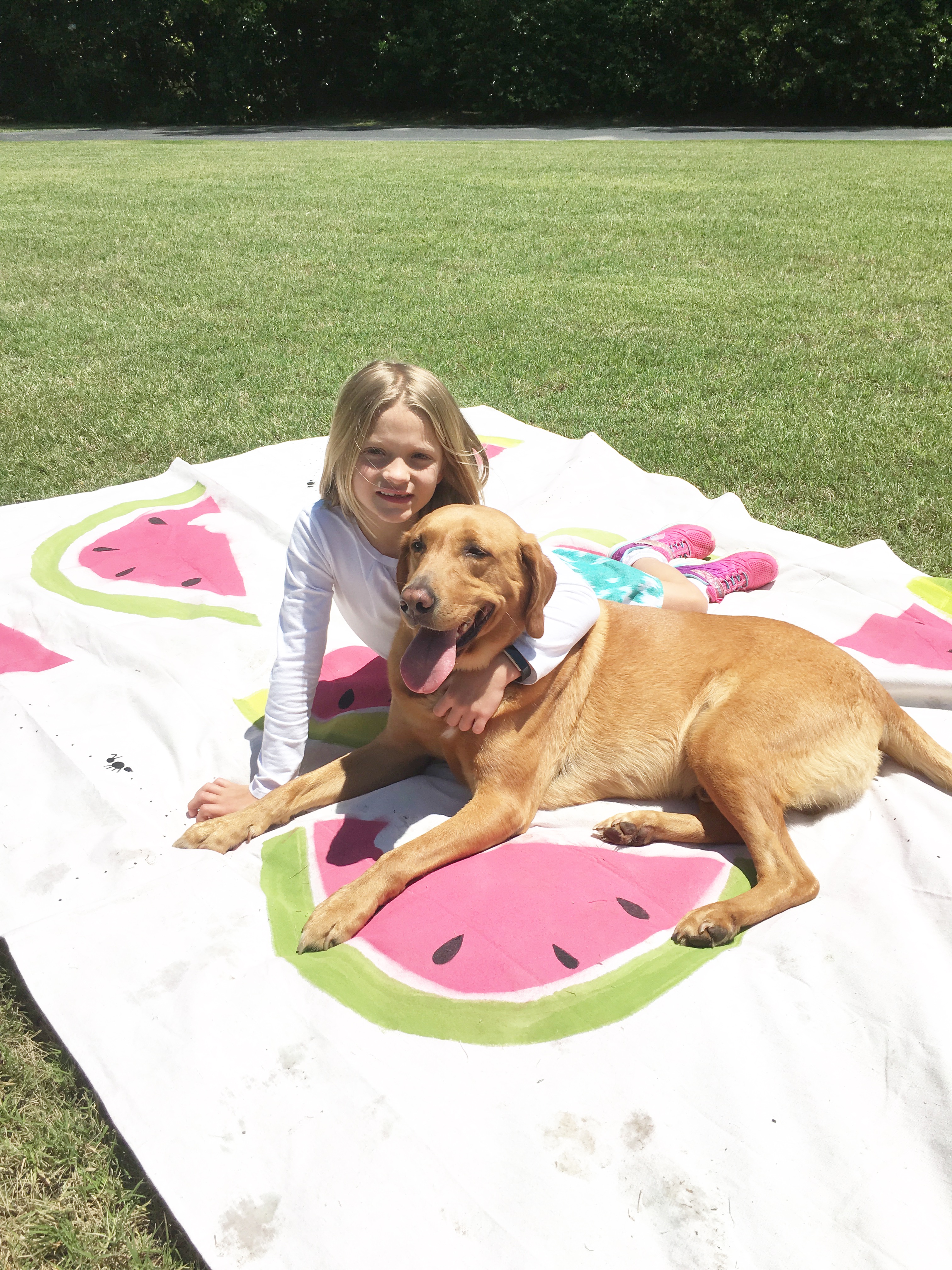 Special thanks to Abigail Wilt, Assistant Digital Editor, for being my on-air "co-anchor."
Cheers!
-JJ