Who's ready for the big game this Sunday?  Whether or not your favorite team made it to the championship, you can still score big points with a winning Super Bowl party!
Even if you aren't a die-hard football fan, a watch party is the perfect excuse to gather friends and family, rank your favorite commercials, and enjoy a mini Katy Perry concert.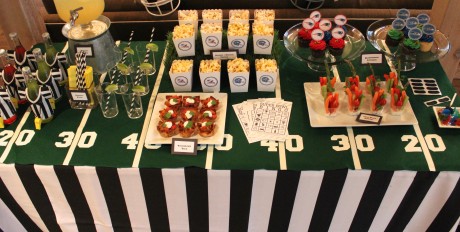 For this sporty soiree, the color palette was kept to a "neutral" black, white, and green.  Add a quick infusion of the team colors and logos and the decor will transition from year to year.   This basic setup would also look great for sports themed birthday parties, college tailgates, and more.
Using a graphic black and white "referee" tablecloth as  the base, the table was then topped with a football field.  Mini Duck Tape  (electrical tape or white ribbon would also work) was used to create field lines on green felt purchased from the fabric store–no sewing required!   It was finished with iron-on numbers purchased from the craft store.  Fun fact: the white tape and numbers are also glow-in-the-dark!  As an added bonus, the tablecloth can be used by the kiddos post party for football action figures or paper football games.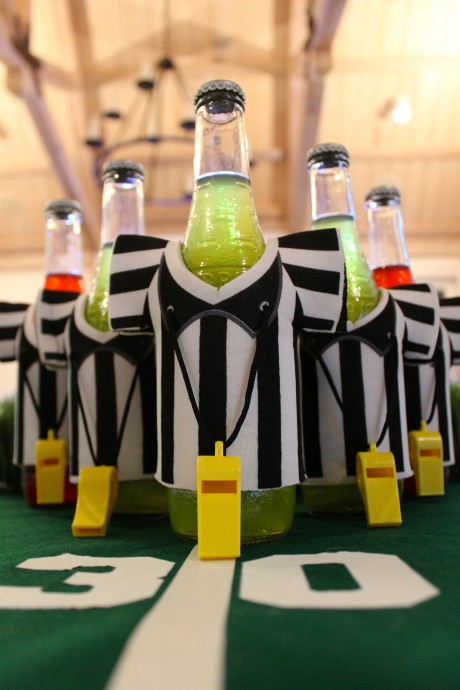 Can we talk about the festive factor of these referee koozies!   Guests can take them home as favors, or they can be used during tailgating season.  The whistles actually work too, in case a party guest feels the need to call an additional penalty!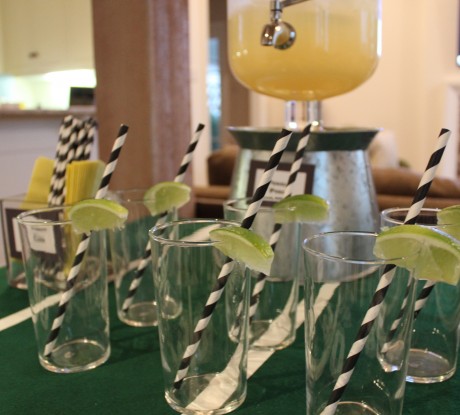 In addition to bottled beverages, having a self-serve concoction is a great strategy for easy hostessing.  This "Penalty Punch" recipe is simple and delicious.  Pair it with some yellow "Penalty Flag" napkins and sporty straws.
When it comes to snacks, eliminate food fumbles with tasty, easy-to-eat appetizers.  No one wants to miss the big play because they were at the snack table, so each of the appetizers is a grab and go item.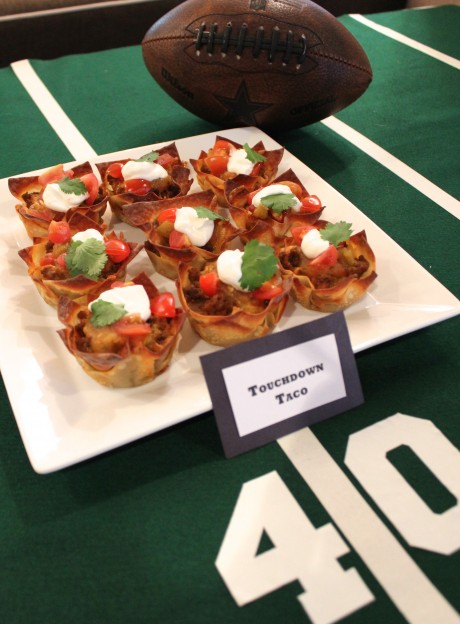 Make these adorable "Touchdown Tacos"  using wonton wrappers and muffin tins.  Add your favorite taco stuffings like meat, beans, salsa, or guacamole for a tasty treat.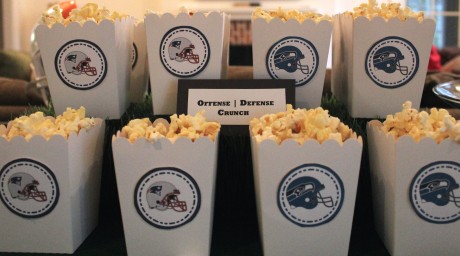 Who doesn't love popcorn?  Create "Offense | Defense Crunch" by adding flavoring mixes (one sweet, one savory?) to your favorite popcorn.  Use disposable treat boxes for serving and add a team logo printable to indicate which flavor is which.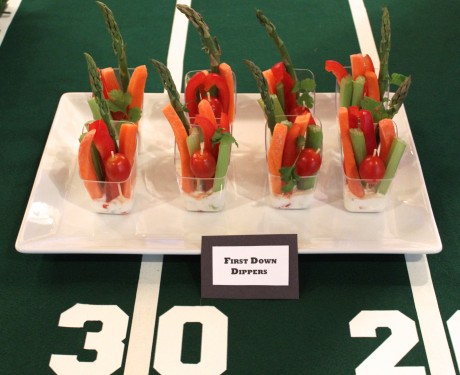 Make sure to include a healthy snack option too.  Elevate hum-drum veggies into "First Down Dippers" by serving colorful slices in small cups complete with dressing dip at the bottom.   Pre-sliced veggies can be purchased in the produce section and make assembling these apps a snap.
Infuse a little sweet team spirit with dueling "Quarterback Cupcakes."  Make or pick up cupcakes with team-colored icing.   Then, use free logo printables cut out and hot-glued to a toothpick to create custom cupcake toppers.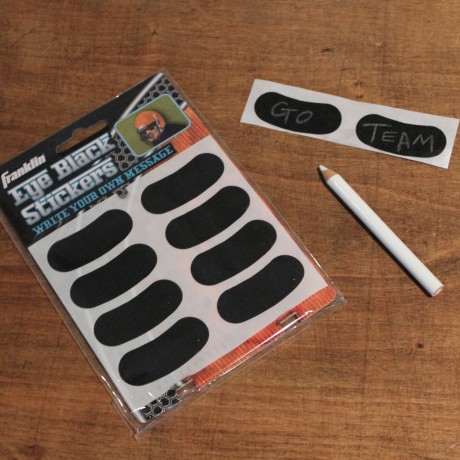 Write your favorite player's name, number or message on black eye stickers.  Fashion tip: this look pairs well with jerseys and foam fingers.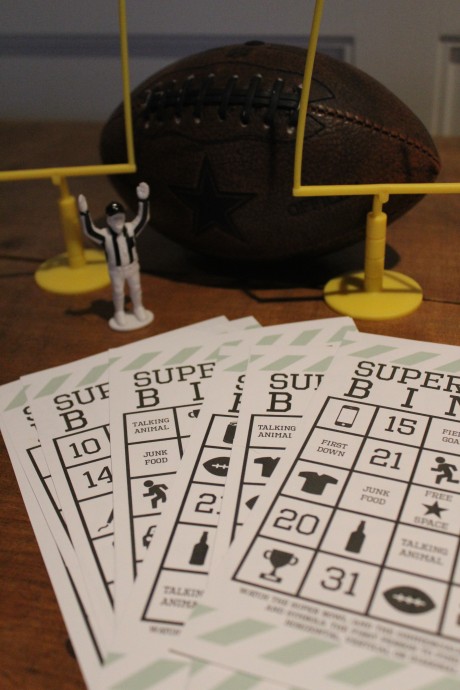 And last but not least, keep the attention of the little fans for the duration of the game by playing Super Bowl Bingo with a free printable.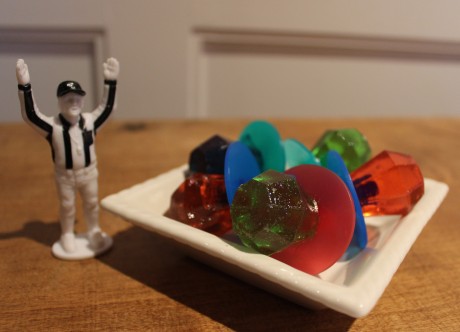 And no matter which team wins the trophy, each guest can still go home with a sweet championship ring!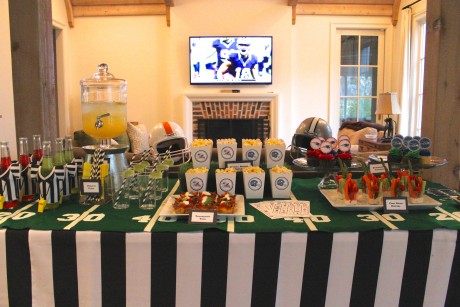 For more great football entertaining ideas, follow JJ Keras Lifestyle on Pinterest
Click HERE to see the Super Bowl entertaining segment on Nashville's Talk of the Town and HERE for Memphis's Live@9 segment,
What are some of your favorite Super Bowl entertaining ideas?