Whether kids or grown-ups, everyone likes to feel appreciated…and Valentine's Day is the perfect excuse to show the love!  And who doesn't love a sweet treat?  To really add a special touch this year, try out some of these adorably punny and nostalgic homemade Valentines.
There's Nobody I Love S'more Than You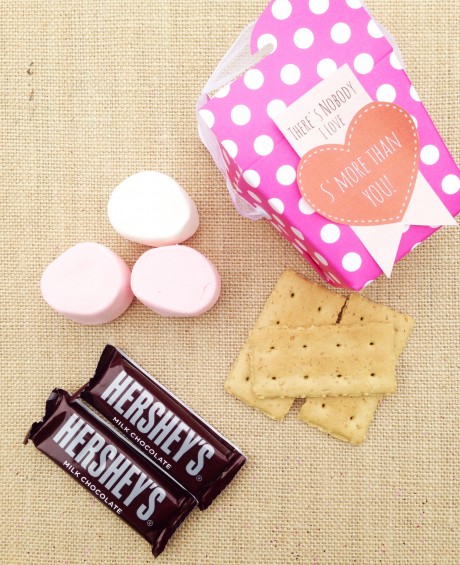 What better way to spend a cold Valentine's night than with a cozy fire and s'mores?  Add a couple of small graham crackers, pink marshmallows, and fun-sized Hershey candy bars to cute little treat boxes and complete with a cute little tag printed on card stock.
My Heart Pops for You!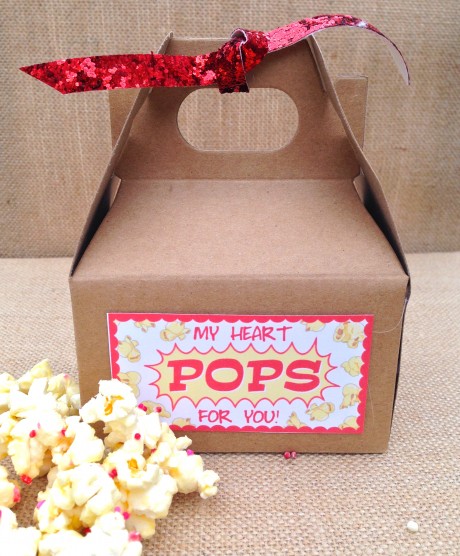 Be careful if you decide to make this recipe–this popcorn is addictive!
First, pop a bag of microwavable popcorn and empty into a large bowl.  Then, melt white baking chocolate (approx. 4 oz) in the microwave, stirring every 30 seconds until fully melted.  Drizzle chocolate over the popcorn and stir to mix thoroughly.  Add some festive sprinkles and you have salty and sweet yummy combo!
To create the Valentines, use small treat boxes or clear treat bags, secure with a ribbon, and print off an adorable label that's perfectly "corny."
You're the Bomb!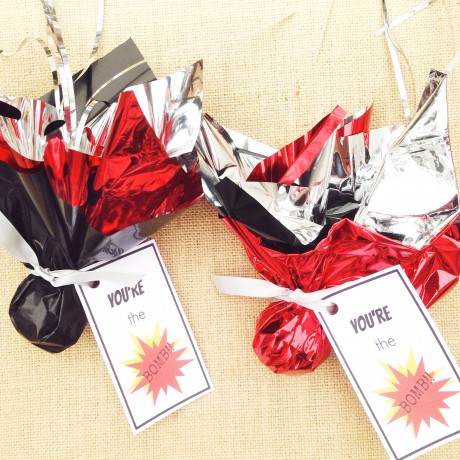 Cut two squares of mylar gift wrap sheets and wrap around a large lollipop.  Add a few metallic mylar strands in the center and secure with a ribbon.  Add an "explosive" tag to complete the Valentine.
You Rock!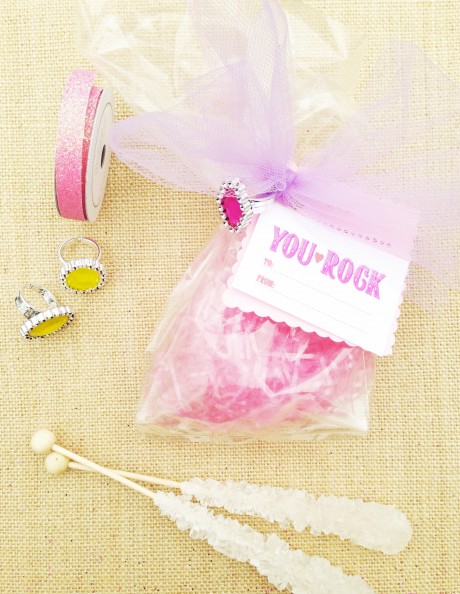 Everyone hopes for jewelry on Valentine's!  And your little diva will love wearable bling mixed with edible bling!  Pair colorful rock candy with plastic favor rings for a fun treat.  Add a "You Rock" tag to complete the theme.
I Love You a Latte
Everyone appreciates a treat from the local coffee shop, so express your love and appreciation with a Valen-latte!  Teachers, co-workers, friends will appreciate the thoughtful "pick me up."
Or, if you are really ambitious, bring your love an actually latte…and bonus points if it's in bed!
To make a Valen-latte, fill a to-go cup with gift wrap stuffing, print or write a message on the cup, and include a gift card to their favorite coffee shop!
Grizz-grams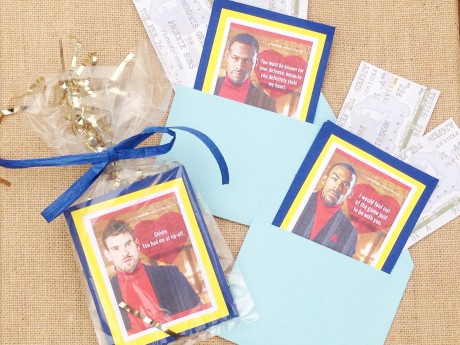 Don't know what to get your favorite basketball fan?  Who wouldn't be so excited to receive some Grizzlies tickets?  Creative packaging amps up any gift.  These hilarious "Grizzgrams" were created by the team a couple of years ago, but you can print them off online, add some team color embellishments and have a Valentine sure to get some laughs.  And if something really bold is what you're going for this year, did you know that Grizz, the official mascot, will deliver a Valentine to your special someone?!?!
Make sure to follow JJ Keras on Pinterest for other great DIY Valentine's ideas!
Click here to watch Valentine's DIY on WREG Live @ 9!